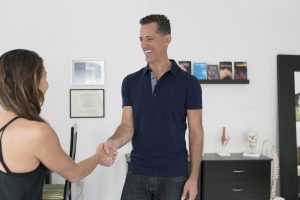 James offers a one-of-a-kind 8-week coaching program and one-on-one individual phone sessions.
His coaching specializes in helping women navigate the relationship world so they can attract and be 100% authentic with their love. While working as an acupuncturist, he would see women come in complaining of things like anxiety, headaches, IBS, migraines, neck, shoulder, and back pain, insomnia, and fatigue. And the intensity of their symptoms was directly related to what was happening in their relationships!
While alleviating symptoms is certainly helpful, the core transformation these clients needed was dating and relationship coaching. He began developing the Holistic Mindset Coaching system that pulled from all of his extensive training and experience in energy medicine to coach clients on how to attract and create extraordinary relationships. His unique dating and relationship approach is grounded in mastery of energy flow, mindfulness, and intuition.
Asking for help and receiving ongoing support, connection, accountability, and guidance is crucial when trying to break free from old, stagnant patterns in order to up-level and attract a love, health, and wellness you may not have known ever before. He is committed to your success and loves his work.
He has an 8-week online transformational program called Attract Your Extraordinary Relationship. This one of a kind program is perfect for successful women who need help breaking old dating patterns while rebalancing and aligning their energy to attract the supportive and committed man they desire. Schedule a complimentary call to see if you're a good fit for this program.
Here are just a few of the coaching testimonials:
"Jim has taught me to trust myself and to listen more to my internal voice rather than external factors. He helped me own my desire for a radical type of love. Shortly after working with him, I met the love of my life. I feel more in touch with my soul than ever before. I have been to so many therapists and I'm a therapist myself. No one has ever helped me the way he has. Not by a landslide." -Nicole
_______________________________________________________________________________
"Jim gives me space to talk things out – which brings me insights / revelations I don't always come across when left to my own devices. Sometimes I will make HUGE connections for the first time – and it's the space and energy you allow me to provide myself that gets me there. I definitely feel that my life / relationships have improved since working w you – across the BOARD. The encouragement to maintain a mindfulness practice, the mellow vibes I feel when I leave our interactions, creating more space to be kinder to myself and more SPACE before my temper goes from 0 to 100 is PALPABLY noticeable to me and the closest folks to me in my life. If you're thinking about working with Jim, I would say RUN, don't walk!" -Danielle
_______________________________________________________________________________
"I am so much more open and present in my relationships and life in general since working with Jim. I have more space to be in my heart, be in my body, and truly be with my loved ones. As a result, I've been hearing more, getting annoyed less, and feeling more connected. Jim, by clearing physical, mental/emotional and energetic space from suffering, from dis-ease, from stories, allows you to reclaim the vast capacity we all have to love ourselves and others, that capacity to go through life with ease and harmony and companionship that works for us." -SS